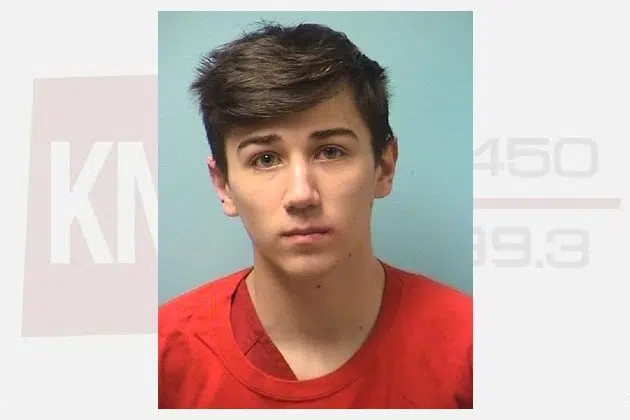 19-year-old charged after allegedly having sex with 15-year-old girl
(KNSI) — A 19-year-old from Roscoe is charged with two counts of third-degree criminal sexual conduct after he allegedly had sex with a teenage girl.
According to the criminal complaint, investigators reported in June 2021 a 14-year-old girl who allegedly had a sexual relationship with then 18-year-old Cayden Kohnen. She said the two had been a couple for nearly a year and had sex for the past six months. She said Kohnen knew her age because she told him how old she was.
Court records show Kohnen spoke to investigators and when asked directly if he was in a physical relationship with the teenager, he replied, "No no. Like, partially, but not really no. The criminal complaint says the investigator explained to Kohnen that the girl had previously told police that the two had sex. The investigator again asked Kohnen if he had had sex with the girl, and he reportedly said yes. Kohnen was then asked if he understood that a 14-year-old couldn't have sex, to which he replied that he "thought it was as long as it was consensual by the parents" .
In a separate criminal complaint, filed Wednesday, it is stated that on Jan. 8, 2022, the Stearns County Sheriff's Department responded to a call from a 15-year-old runaway in Paynesville Township. The girl's mother said her daughter had returned home before the deputies arrived. When questioned, the criminal complaint says the girl said she was picked up at 12:30 p.m. that morning by Kohnen, who dropped her off at 9:00 a.m., but she denied the two had sex.
A Central Minnesota Human Trafficking Task Force investigator said he spoke with the girl on January 14. She told them she was in a relationship with Kohnen and sent her nude photos on Snapchat. When Kohnen was questioned, he allegedly told police that the two had sex in his apartment and that he knew she was 15 and he was 19 and that it was illegal.
The criminal complaint says the investigation is open and ongoing and additional charges could be filed.
___
Copyright 2021 Leighton Enterprises, Inc. All rights reserved. This material may not be broadcast, published, redistributed or rewritten in any way without consent.