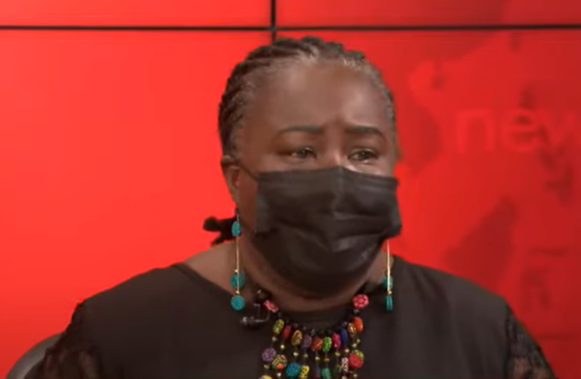 Arrest of journalists: Ownership of radio stations by politicians is the biggest problem – Prof. Gadzekpo
The Dean of the School of Communication Studies at the University of Ghana, Professor Audrey Gadzekpo, says political ownership of radio stations is a major contributing factor to recent arrests of journalists in the country.
According to her, these radios have programs that seek to promote the agenda of political parties and sometimes engage in deliberate misinformation.
speaking on Newsfile from JoyNews on the recent cases of arrest of journalists, Ms. Gadzekpo noted that this is due to the political affiliation of their media houses.
"Part of the problem is the ownership of radio stations. This is the biggest problem. Most of our radio stations are owned by politicians. It was no coincidence that when Bobie Ansah was arrested by the police, it was NDC supporters who came to the police station. They were not ordinary citizens.
Because our media space, especially the broadcast space, has been captured by politicians. This is why we have nearly 700 radio authorizations which even make the sustainability of the radios impossible. But why? Because everyone who comes to power wants a radio station," she said on Saturday.
Mr. Ansah was charged with publishing false news and offensive conduct. He allegedly called First Lady Rebecca Akufo-Addo a 'thief and that she stole state land around Kotoka International Airport', a statement he knew was 'likely to cause a breach of the peace " January 1st. , This year.
According to Professor Audrey Gadzekpo, before the liberalization of the airwaves, a commission set up for this purpose warned against the intrusion of politicians in the media space.
"It's a shame because at the beginning of liberalization there was a Bonso-Bruce Commission, and one of the things the Commission advised was that we shouldn't have political parties and agents with media and religious interests.
What are some of the problems we have now? It is with political and religious interests," Professor Gadzekpo noted.
She added, "So it's this failure of every administration from 1993 to date that has led us to this position."
In addition to the arrest of Bobie Ansah, Onua TV morning show host Blessed Godsbrain Smart has been detained by national security officers after being released on bail by the court following his arrest for extortion.
He was detained with fellow staff member Eric Dadzie Copperfield, commonly known as DJ GH Boy, who also faces charges of aiding and abetting extortion.
On February 8, 2022, a Power FM journalist, Oheneba Boamah Bennie, was sentenced to 14 days in prison for threatening and insulting President Akufo-Addo.