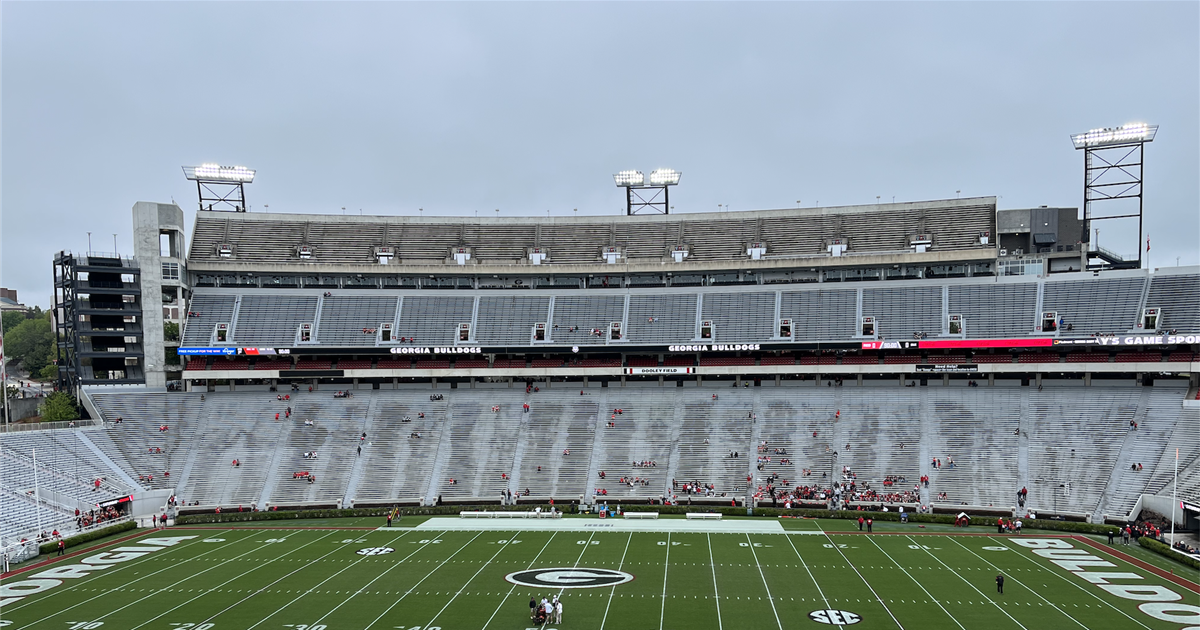 Georgia Red and Black Teams Face Off in 2022 G-Day Game
The Georgia Bulldogs return to Sanford Stadium on Saturday for the annual G-Day game to cap off the spring. The Bulldogs last played in front of their home fans on November 20-21, when the Bulldogs made quick work of Charleston Southern.
The red team appears to be the first team attack, while the black team appears to be the first team defense. Check out the full lists here.
Today's game kicks off at 1 p.m. ET and will be broadcast on ESPN2. Below are ways to follow today's action.
TV/streaming information
To start up:

1 p.m. ET, Saturday, April 16

TV:

ESPN2

Diffusion: WatchESPN
TV Ads Team: Joe Tessitore (play-by-play), Greg McElroy (color analyst), Katie George (secondary reporter)
Radio announcement team: Scott Howard (play-by-play), Eric Zeier (color analyst), DJ Shockley (secondary reporter)
Atlanta—750 AM/95.5 FM
Athens — 960 AM/106.1 FM
Augusta — 580 AM/95.1 FM
Braunschweig — WGIG-AM 1440/ WHFX-FM 107.7
Columbus — 1270 AM / 102.5. FM
Jacksonville, Florida — WJXL-AM 1010 / WJXL-FM 92.5
Macon — WQBZ-FM 106.3
Savanna — 1400 AM/104.3 FM
Satellite Radio: Sirius 131/192/963
Additionally, Dawgs247 will provide live updates, scores, highlights and more on the day's action. Use your browser's refresh button to see updates as they arrive.
4TH QUARTER
– (4Q, 0:55) Jack Podlesny makes a 28-yard field goal attempt. Game tied 23-23 with less than a minute to play.
– (4Q, 1:53) The red team is a little behind thanks to an angled pass and an interception by ILB Trezmen Marshall.
– (4Q, 2:26) A late practice led by Brock Vandagriff ends below the end zone. Jack Podlesny nails a field goal from 33 yards to cut the Black team lead to 23-20.
3RD QUARTER
– (3Q, 0:00) The black team leads 23-17. Maybe still anyone's game.
– (3Q, 6:38) Arik Gilbert captures a 6-yard touchdown pass from Stetson Bennett (XP blocked). It's not hard to see Georgia know what they've got in Arik Gilbert. He was a mismatch throughout today's scrimmage, and on that drive he fired another detention penalty as the covering defender decided he just couldn't keep up. Gilbert finished the practice in style by making his way to the ball in the left corner of the end zone and catching Bennett's pass.
HALF-TIME OBSERVATIONS
– We already knew this before today, but Georgia's tight ends room is absolutely loaded. Even with Brock Bowers, Darnell Washington and Ryland Goede sidelined, the Bulldogs got several explosive plays from Arik Gilbert and Oscar Delp. Together, the two combined for 6 receptions for 76 yards and a touchdown. Gilbert's progress this spring has been a huge story, and Delp shows that the positive praise he received along the way was well justified.
– Quarterback Carson Beck rose to the occasion as the No. 2 quarterback today. He went 12 of 20 for 233 yards in the first half and showed great touch on his passes, whether it was the deep shot to Arian Smith on his first possession or threading the needle on a throw down the middle at Sevaughn Clark which Clark turned into a 19-yard gain. Even though Beck isn't a legitimate threat to Stetson Bennett's job, it's hard not to be impressed with what he's done.
— Much of the defensive talk this spring has centered on inside linebacker Jamon Dumas-Johnson, and "Pop" showed up ready to go on Saturday. In two quarters, Dumas-Johnson has a record 6 tackles.
– Someone else who's impressed, albeit on the team's second defense: defensive tackle Warren Brinson. Brinson worked his way through the second-team offensive line all through Saturday, and at one point it looked like he had "fired" Carson Beck. He has a pair of tackles.
– Defensive lineman Jalen Carter is, in fact, a beast. Carter hit running back Kendall Milton on a run during the second quarter.
2ND QUARTER
– (2Q, 0:00) Game tied 17-17. The black team had a chance to take a late lead but failed to pass. Two passes to Arik Gilbert went incomplete (although one was hampered by a defensive outfit) before Javon Bullard intercepted a pass from Stetson Bennett to end the half.
– (2Q, 1:54) Stetson Bennett hits Kendall Milton for a 32-yard touchdown. Draw 17-17. The black offense had no problem responding to the red team's score. Stetson Bennett led the attack down the field before finishing the ride in style by spotting Kendall Milton open to his right and shooting him. Milton caught two defenders in the immediate vicinity, but Milton passed both to score on a 32-yard reception. Expect to see Milton and McIntosh make plenty of catches out of the backfield in the fall.
– (2Q, 2:58) Daijun Edwards is back, this time on a 3-yard touchdown run. The red team leads 17-10. It was a 7-play, 70-yard practice for the red team, which continues to roll with Carson Beck leading the way. Beck had a pair of big throws on that drive, the first being a shot to the right sideline caught by Jackson Meeks, who had to make a hard hold in traffic to knock him down for a 37-yard gain. Shortly after, Beck shot Dominick Blaylock, who made a great effort to catch the ball over defensive back Jehlen Cannady to drop the ball near the goal line. A play later, Edwards kept his feet up and waltzed into the end zone for another score.
– Austin Blaske now plays center with Jared Wilson at right tackle for the red team.
– (2Q, 6:50) Jared Zirkel hits a field goal from 26 yards. The game is tied 10-10. Another example where the black team is able to move the ball but not quite reach the end zone. Drive ended with Brock Vandagriff throwing to Kenny McIntosh out of the backfield – the throw was a bit past McIntosh, and there was no wiggle room before Jamon Dumas-Johnson made the tackle.
– Some additional notes on the players absent today: cornerback Kamari Lassiter and defensive end Tramel Walthour are on the sidelines in street clothes. I assumed something must be up with Walthour since we really haven't heard anything about him to close the spring.
– (2Q, 11:48) Jack Podlesny hits a field goal from 24 yards. The red team leads the black team 10-7. Another strong downstroke by the second team offense highlighted by a 20-yard catch from Oscar Delp. Delp may be a true freshman, but he's quickly shown he's capable of contributing to a position where the Bulldogs have a ton of depth. Shot at Jehlen Cannady for breaking the pass in the end zone to force that basket.
– At the end of this Podlesny field goal practice, the Black team defense was: Mykel Williams, Nazir Stackhouse, Warren Brinson and MJ Sherman up front; Jalon Walker, Xavian Sorey at linebacker; JaCorey Thomas, Nyland Green, Daylen Everette, Jehlen Cannady and Malaki Starks in high school.
1ST TRIMESTER
– END 1Q: Draw 7-7. Lots to like about this first quarter as well as areas for improvement. Along with the obvious big plays in the air and big catches from Arian Smith and Arik Gilbert, I was impressed with the Red defense's latest practice and how they tied on. Also liked the protection Carson had by his offensive line on those last drives, even the ones that ultimately fell short.
– (9:19, 1Q): Red attack said whatever you can do, we can do better. Carson Beck opens possession by shooting Arian Smith for a 60-yard gain. A play later, running back Daijun Edwards takes a run to his right and is on a 10-yard run. Draw 7-7.
It's hard not to be impressed by the aggressive opening action with Beck showing his arm and Smith showing he's still a burner even after last year's injury. We can have a high score case ourselves today.
– (10:09, 1Q): The fast attack of the black offensive is crowned by a nice catch in the traffic by tight end Arik Gilbert. The black team leads 7-0.
Something tells me we might see more Gilbert today. Solid opening for Georgia, which has rushed for 70 yards in eight games. Besides catching Gilbert, the Bulldogs had a big play on Stetson Bennett's 33-yard pass to Kenny McIntosh. The Bulldogs also had a shot on a touchdown just before Gilbert's catch, as Bennett hit Brett Seither in the end zone, but Seither couldn't hold the ball as it hit the ground.
– Here is your starting composition to open this game:
Black (first team offense): QB Stetson Bennett; RB Kendall Milton; WR Ladd McConkey, Adonai Mitchell; TE Arik Gilbert, Brett Seither; OL Broderick Jones, Xavier Truss, Sedrick Van Pran, Devin Willock, Warren McClendon
PRE-MATCH
–Georgia women's basketball coach Katie Abrahamson-Henderson and men's basketball coach Mike White are on hand to kick this thing off by calling the Dawgs.
Black team (first team) OL warming up: left tackle Broderick Jones, left back Xavier Truss, center Sedrick Van Pran, right back Devin Willock, right tackle Warren McClendon.
– Red team (2nd offensive team) OL warming up: left tackle Earnest Greene, left back Micah Morris, center Jared Wilson, right back Dylan Fairchild, right tackle Austin Blaske.
– Players on the side who don't seem to be warming up: offensive linemen Chad Lindberg, Warren Ericson and Tate Ratledge; outside linebacker Robert Beal Jr.; inside linebackers Rian Davis and CJ Washington; running back Kurt Knisely; wide receiver Mekhi Mews and Logan Johnson; and tight ends Brock Bowers and Ryland Goede. Lindberg was using a crutch to leave the sideline to join the rest of the group.
– As pre-game warm-ups begin, we have a few different players here lining up punts. The group includes Dominick Blaylock, Kearis Jackson, Arian Smith, CJ Smith, Ladd McConkey, Daiujun Edwards and Kenny McIntosh.