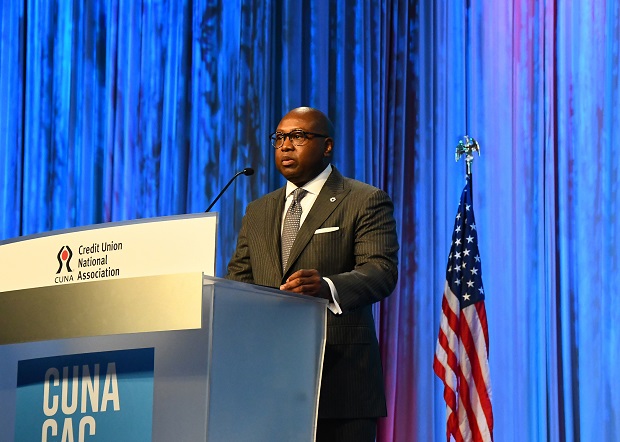 Hood defends sale of taxi loan as agency defends secret nature of deal
NCUA President Rodney Hood continued on Tuesday to defend the agency's decision to sell the taxi locket loans it was holding, even though agency officials have defended the secrecy of the sale.
"I firmly believe that this sale will help cardholders and their families, as it will give them greater certainty in the management of their loans," Hood said at the CUNA government affairs conference.
Last week, the NCUA announced that it was selling the taxi locket loans it was holding as a liquidation agent for the federal credit unions Melrose and LOMTO, which failed due to their high concentration of loans from Taxi.
The agency said it was selling the loans to Marblegate Asset Management but declined to provide information on the number of loans or the sale price.
"The Federal Credit Union Act gives the liquidation agent broad powers to effect an orderly liquidation at the lowest cost," said a spokesperson for the agency.
The spokesperson added: "The agency determined that [public disclosure of the sale details] could affect the agency's approach, negotiations and sales process for potential sales of its remaining taxi medallion stocks in the future. "
When asked where the law allows the agency to conduct such a secret sale, the spokesperson suggested that a reporter file a Freedom of Information Act request. CU time had already filed such a request.
In his speech, Hood did not mention a request from New York City officials, House Democrats and CUNA to delay the sale to allow the formation of a public-private partnership. This group then allegedly bought the loans from the agency, with the aim of giving drivers and locket owners the opportunity to repay their loans at a reasonable rate.
Hood said on Jan.22 he received a letter suggesting that the agency hold the loans and allow credit unions to purchase the distressed assets.
Hood said the agency decided to wholesale the loans.
Hood said the agency had contacted 23 qualified firms with experience in selling distressed assets. Six of those companies submitted bids and after careful consideration, the agency cleared two of them to go through the rest of the process.
"Holding these locket assets beyond a reasonable period of time could cause the NCUA to repeat the mistakes of the past," he said. "In addition, a team of financial advisors put together a comprehensive case explaining why we should sell these assets in bulk in order to maximize asset value while treating borrowers in good faith. "
The agency spokesperson said the NCUA board of directors has delegated the authority to its asset management and support center to make such sales.
As a result, a formal board vote was not required, although board members were informed of the sale.