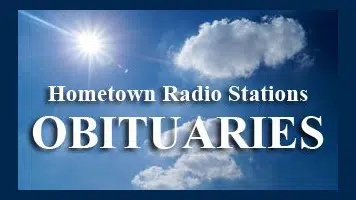 JOHN A. STUMPF, 85 years old | WCCS AM1160 & 101.1FM
John A. Stumpf, 85, of Barr Slope (Clymer), PA went to be with the Lord on Tuesday, September 28, 2021 after he passed away at his home.
Son of Norris "Odin" and Annie Pearl (Sheesley) Stumpf, he was born June 3, 1936 in Montgomery Twp., Indiana Co., PA.
John worked at FMC Technologies for many years before retiring at the age of 60. Since 1977 he had owned and operated Stumpf's Saw Shop in Barr Slope.
One of his favorite hobbies was fishing.
On December 4, 1976, he married Marie G. (Van Normal) Stumpf.
John is survived by his wife of forty-four years, Marie; her six children: James (Jan) Stumpf; Thomas (Stacy) Stumpf; Tamera (Eric) Harmon; Stephen (Pamela) Stumpf; Jeffrey Stumpf and Barry Stumpf; four daughters-in-law: Laura Saathoff: Carolyn (Jeffrey) Roberts; Deborah (Walter) Garde and Joanne (Jeffrey) Thomas; sixteen grandchildren and in November 2021 there will be thirty-two great grandchildren.
His parents died before him; his first wife, Patricia (McCoy) Stumpf; her stepson: Jon Stewart; his three brothers: Norris S.; Harry H. and George C. Stumpf and his two sisters: Ethelmary P. Conrad and Agnes Stumpf.
Family and friends will be received from 2:00 p.m. to 4:00 p.m. and from 6:00 p.m. to 8:00 p.m. on Thursday, September 30, 2021 at Rairigh Funeral Home, Ltd. in Hillsdale, PA. On Friday, October 1, 2021, there will be visitation from 10:00 a.m. to 11:00 a.m. at the Marion Center United Methodist Church, 204 Main St., Marion Center, PA with a funeral service at 11:00 a.m. to immediately follow the visitation. . Reverend Erica Wellner will officiate. Interment at Rowley Cemetery, Hillsdale, PA.
In lieu of flowers, memorial contributions can be sent to: Marion Center United Methodist Church, PO Box 197, Marion Center, PA 15759 designated for Disability Accessibility Fund.
Visit www.rairighfh.com to sign John's guestbook and share a message of condolence.
.