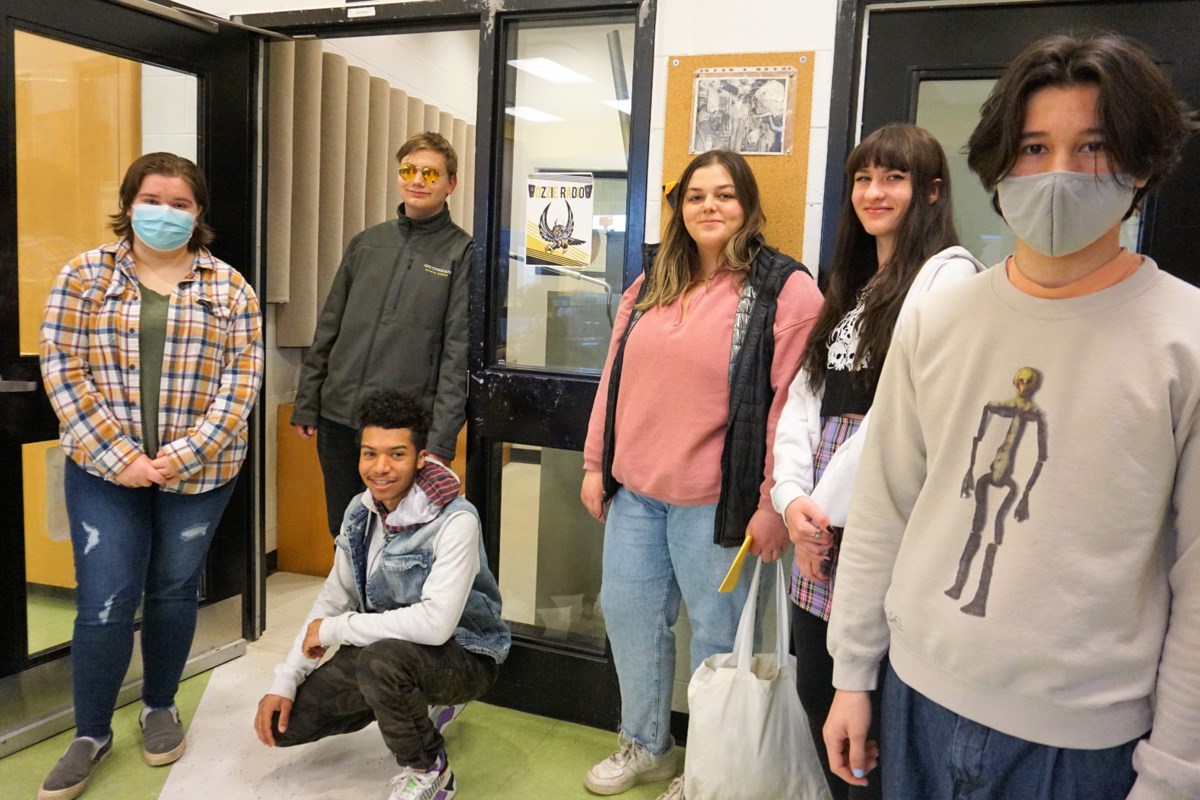 Live at 10.45 a.m.: OZZIE Radio brings CCI students out of their shells
"It's a great opportunity to see the talent we have here at school," says teacher Chris Young
On Wednesday morning, 17-year-old Abby Hamerton, a student at Collingwood Collegiate Institute, was working quickly to make changes to her radio show, which was due to air at 10:45 a.m. in the halls of CCI and beyond.
Hamerton is part of a class of students who help produce the school's OZZIE Radio program. Each weekday, a Grade 12 Communications and Technology student produces and hosts a half-hour radio show with music and content of their choice, which is broadcast on the school, an app called Mixlr, and broadcast across the halls of Collingwood High School.
Each student receives three shows this spring semester. Wednesday was Hamerton's turn.
"I've been in a group since 6th grade. My family has always been very musical," Hamerton said. "I've always loved the idea of ​​sharing music with others, whether it's making music, playing music, or showing music."
Hamerton's show contained an eclectic mix of content. The parties focused on the music and the story behind the music she selected, but she also focused on the date as well as new apps and technology.
"Coming out of Easter, I wanted to know what holiday was going on. It's National Egg Salad Appreciation Week, which is weird. I also had a chat segment about how nice it is. to have long weekends, but it definitely ruins your schedule," she said.
Hamerton, along with 16-year-old Marcy Vetro and 17-year-old Alisa Mitryakhina, are the only students participating in the radio show this semester.
"It's definitely more of a guy's environment, or space," Mitryakhina said with a laugh. "I took a tech class last year and when I was realizing it was sometimes hard to get them to listen to me or take me seriously, but I'm glad I did."
"I've taken a few tech classes since I started here. There's always that fear right before the semester starts that you might be the only woman in that class. It sometimes forces people to drop out of the course," Hamerton said.
With the class not running for the past two years due to low enrollment, Hamerton was thrilled that she was able to enroll in her senior year to give production a spin before graduating.
"I'm so happy now that I got here," she said.
Teacher Chris Young oversees the Communication and Technology course and radio broadcasts. While the student shows are broadcast live, they are pre-recorded. Young listens to each show the day before it airs to report any issues or changes. On the day of its release, the student is responsible for making the changes the morning before it goes live.
Shows are produced in Adobe Audition and streamed via Mixlr.
"The dream is to get down to earth," Young said. He would like the shows to air on FM radio, but the licensing process is complicated and the program does not have enough content or resources to broadcast 24/7.
For now, he hopes to generate more community interest in student-produced content.
"It's a great opportunity to see the talent we have here at school, and it's a window into what kids are listening to these days," he said. "You would be surprised."
Lukas Van Duyn, 17, had his show aired on April 14.
"My show was based on the greatest hits from the 60s through to the 90s, with a focus on rock music. My next show will be about Dire Straits and its history," he said. is to plan everything in half an hour with useful information. Recording and editing is the easy part.
Jude Leynes, 17, had his first show on April 12, which focused on alternative rock.
"I'm a musician and I do a lot of live recordings. I also have a podcast with my friends. My show showed my taste in music," Leynes said. "I did an album review and talked about each song. It was more about the music than the conversation.
Nathan Anderson, 17, is still planning his first show.
"Listening to the radio all the time, I was inspired," Anderson said. "I'm going to focus on The Chainsmokers. There will be rap on it. It is a work in progress.
Anderson said that as part of their class, they discussed radio dramas, which also piqued his interest.
"I love the acting part," he said. "It opens up possibilities. It's learning and experience for me.
Mitryakhina prefers to focus on music and will spend her show performing and discussing her own musical tastes. She says that for her May show, she would like to try to do an on-air interview.
"I really like the music I listen to. I like to talk about the journey of artists," she said. "I want to be comfortable in this technological environment because I go into animation ( post-secondary)."
For Vetro, experimenting with radio goes beyond the show itself and ventures into personal growth.
"For me, I have a little trouble making myself known. Talking is out of my comfort zone sometimes," Vetro said. "But, I really wanted it. I'm in 12th grade, so this is my last year here.
Vetro prefers to focus on the talk-radio aspect of broadcasting. For her next show on April 28, she will discuss Worker Memorial Day. She will do a mock interview and her musical choices will be related to cases of people who have died on the job.
"Everyone has their own thing, and I think everyone's (shows) are good," Vetro said. "Even though it's a radio course, I learned a lot and I think it's really going to help me do what I want to do when I'm older."
OZZIE Radio broadcasts weekdays from 10:45 a.m. to 11:15 a.m. It can be accessed through the CCI website or the Mixlr website and app. Archived shows are also available on the website and app here.