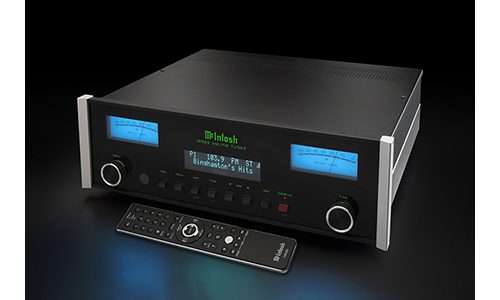 McIntosh MR89 Tuner brings the legacy format to today's world
Offering home audio enthusiasts a fresh take on a proven format, McIntosh has introduced its new MR89 tuner.
The New York-based AV company's new tuner incorporates McIntoshthe latest radio advancements that include improvements in sensitivity, signal-to-noise ratio, harmonic distortion, channel sensitivity and stereo separation.
McIntosh explains that the MR89 tuner's advanced signal quality monitor can display detailed signal, multipath and noise levels of incoming radio signals to help integrators fine-tune AM or FM antenna placement.
McIntosh includes its RAA2 AM antenna with the tuner, and the MR89 also comes with a choice of unbalanced (RCA) or balanced (XLR) analogue outputs, as well as digital coaxial and digital optical outputs to allow integrators to connect the product to a range of systems including whole-home audiovisual systems and versatile home theaters.
The company points out that its new MR89 tuner uses its proprietary McIntosh radio frequency (RF) circuitry which is supposed to receive strong FM signals from nearby stations and points out that this circuitry is able to avoid overload or distortion problems that can limit performance. of some tuners.
McIntosh notes that the tuner is also capable of receiving weaker FM signals without the distraction of noise.
Some of the other features offered by the MR89 tuner include:
Improved stereo blending and new McIntosh "High Blend" option
The inclusion of a Softmute function which reduces audio output from lower quality station inputs
McIntosh offers a Highcut function to reduce high frequencies and other distracting audio content
The MR89 uses FM Radio Broadcast Data System (RBDS) support to display station and music information
McIntosh includes an adjustable search function
Tuner offers the ability to store over 20 AM and FM station presets
Additionally, McIntosh says its new tuner incorporates a pair of 60dB output meters that indicate the signal strength the M89 is receiving in each channel.
More News: McIntosh Launches SACD/CD Player and MCD12000 DAC
McIntosh says the meters also provide a good indication of the level of stereo separation the tuner is receiving, and like other McIntosh products the MR89 uses classic McIntosh industrial design elements beyond the meters, such as a front panel black glass and brushed aluminum end caps. .