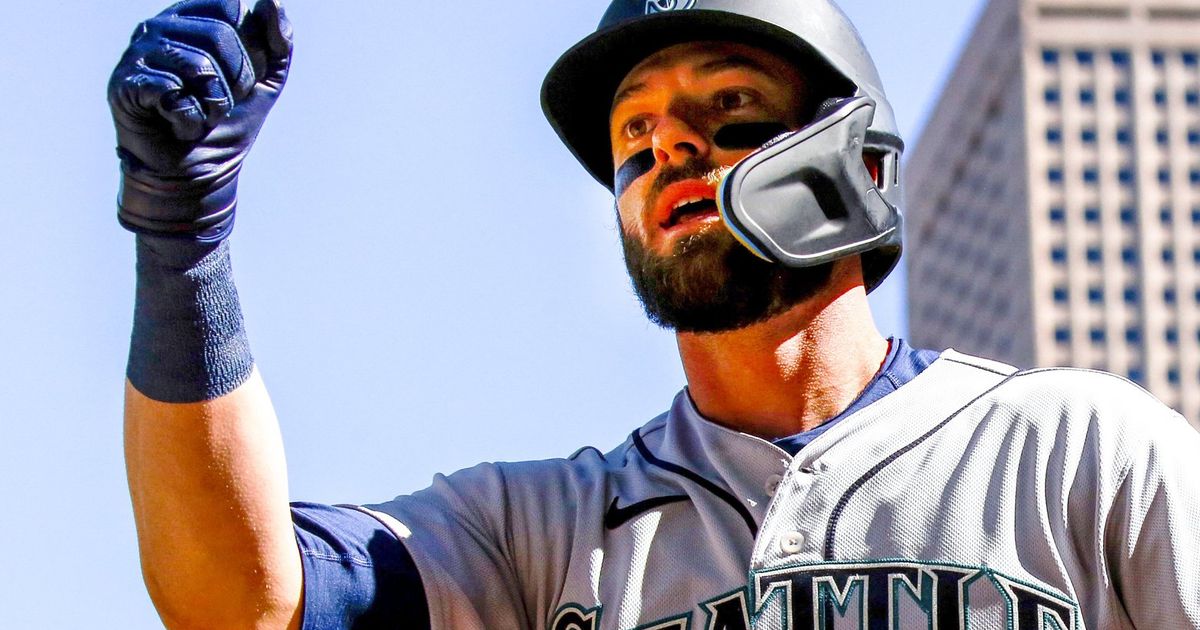 Mitch Haniger's return to Mariners short-lived after injury on swing
MIAMI — A sprained ankle ended Mitch Haniger's return to the lineup after just one plate appearance.
In his first at bat after missing 11 games due to COVID-19, Haniger injured his right leg when fouling infield on a 1-2 fastball. Haniger took a hard hit on the ground and his right knee fell to the ground with his right ankle twisting awkwardly on the swing. He stood up in obvious discomfort and took a few moments to collect himself, limping slightly before stepping back into the batter's box.
"I felt like my cleat got stuck in the box," Haniger said after the game while wearing a walking boot on his right leg. "I just twisted my ankle and felt like I had fouled a ball from my foot. It was weird. But I felt good, so I just kept batting.
On the next pitch, he picked Elieser Hernandez's left field and ran cautiously to first base.
"When I went for a run, it was killing me," he said.
He was replaced by pinch racer Abraham Toro.
The Mariners officially announced that Haniger left the game with a sprained right ankle in the sixth inning without further details.
The sprain was not typical as it was an inversion sprain, meaning the ankle bent inside the foot instead of the typical rolling of the ankle outward , which is much more common in sports. As an outstanding receiver at Archbishop Mitty High School in San Jose, Haniger had to deal with those kinds of sprains. It was different.
"That's actually where I have the symptoms," he said. "It's like on the outside of my ankle, but that's because of the inversion. I've never had this before, so I'm learning about it.
He underwent x-rays at the stadium, which turned out to be negative. But he will have an MRI on Saturday.
"Certainly frustrated," he said. "I feel like there's really nothing I can do right now. It's unfortunate and unlucky. I just have to go with the flow.
A move on the disabled list for Haniger is planned. Seattle could call Steven Souza Jr. or Stuart Fairchild from Class AAA Tacoma. Both have MLB experience. A longshot would be to activate Kyle Lewis from the injured list. Lewis recently started playing games in extended spring training after missing most of last year and spring training due to knee surgery.
Haniger was activated from the COVID injured list Friday morning.
He tested positive at the Mariners homestand and spent more than two days in bed coping with the effects of COVID. Even after he started to feel better, he couldn't quite shake off a lingering and bothersome stroke after being cleared back with two consecutive days of negative tests.
That's why the Mariners didn't activate it in the previous series in Tampa. They wanted to let the meds help ease some of the congestion and pressure Haniger was feeling before getting him back in line.
On Friday morning, Seattle activated Haniger from the COVID injured list and designated right-handed pitcher Matt Koch for assignment.
Haniger said before the match that he was still not 100% "but I feel good enough to play."
With the Mariners offense coming off two less than productive games in Tampa in two one-point losses, manager Scott Servais was more than happy to put Haniger in the cleanup zone.
"We certainly missed him," Servais said. "Any time you have a guy who can swing the bat and is as competitive as he is, it's great to see him back. He's going DH tonight. Hopefully we get him back in the outfield tomorrow and we let's see where it goes from there.
Will he be back on the injured list?
Haniger had played in eight games prior to his stint in the IL, posting a .176/.200/.471 slant line with a brace, three home runs and seven RBIs.
Marco Gonzales to make his next start
Marco Gonzales kicked off his normal bullpen session between starts Friday afternoon at LoanDepot Park.
"Normal number of throws, full effort," he said. "Ready to go for Monday."
In the moments after Gonzales was hit by a 109mph line drive when he started on Tuesday, that possibility seemed remote.
Luckily for Gonzales and the Mariners, the ball hit him in an area of ​​his wrist that didn't fracture or cause serious muscle contusion.
"Incredible, really," Servais said. "We were very lucky on that one. He was capable of throwing a bullpen and he threw all of his pitches and got away with it. He can't wait to go back. So we're really, really lucky it's not worse.
To note
Third base coach Manny Acta and broadcaster Rick Rizzs both endorsed COVID protocols and joined the team in Miami. Acta tested positive the same day as Servais. Rizzs hasn't aired since the same day Servais and Acta were quarantined.