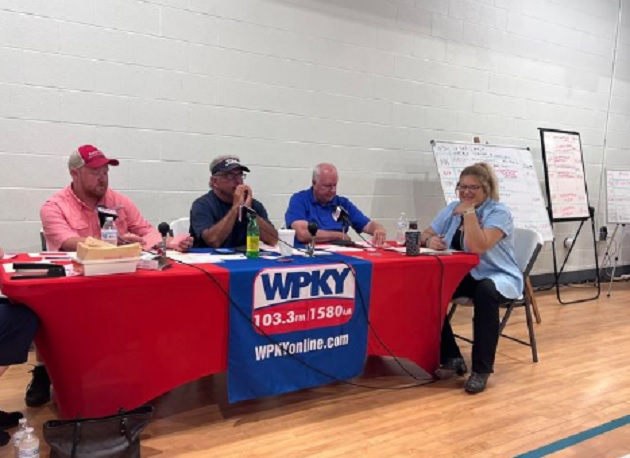 New Vocational Scholarship Announced at Radio Auction | WPKY 103.3 FM
Princeton Optimist Club President George Kilgore made a big announcement on night three of the radio auction Wednesday night — a new professional scholarship in honor of agricultural teacher Wes York, died last month.
Beth Mann, owner of WPKY, said she and Optimist Club President George Kilgore have spoken a lot about the need for a scholarship for vocational school students who want to attend trade school. She added that this scholarship — the Wes York Memorial Scholarship — established by the Optimist Club is a great way to honor the Caldwell County High School agriculture teacher.
click to download audioOne of these former students is Benji Kilgore. He shared a conversation he had with York between his junior and senior years that shaped his future.
click to download audioNoah Peake is another student whose life has been influenced by the popular and beloved agriculture professor. Kilgore said Peake is also an Optimist Cub scholarship recipient who chose a future teaching agriculture.
click to download audio Kilgore said he has been talking with Platinum Partners and the Goat Club over the past few months to create a scholarship strictly for business school students and it's a great way to remember York by doing a Don.
click to download audio During Tuesday night's auction, 65 items were sold, fetching approximately $2,070. On Wednesday night, Kilgore said he surpassed that amount and it was another great night thanks to the support from the community.
click to download audio There are other ways to help youth in the community through the radio auction. You can bid and donate items or join the Platinum Partner program by donating $500 to $1,000. You can also help by donating through the Goat Club which has three tiers: Good Ole Goat is a $25 donation, Silver Goat is a $50 donation, and Gold Goat is a $100 donation.
For more information about the radio auction, including the Platinum Partner program, projects supported by Princeton Optimist and Kiwanis clubs, and phone numbers to bid on an item, click here.
The radio auction continues through Friday. You can listen to live coverage every night on WPKY 103.3 FM/1580 AM, via the stream on our website, the free WPKY app, and even on Alexa.