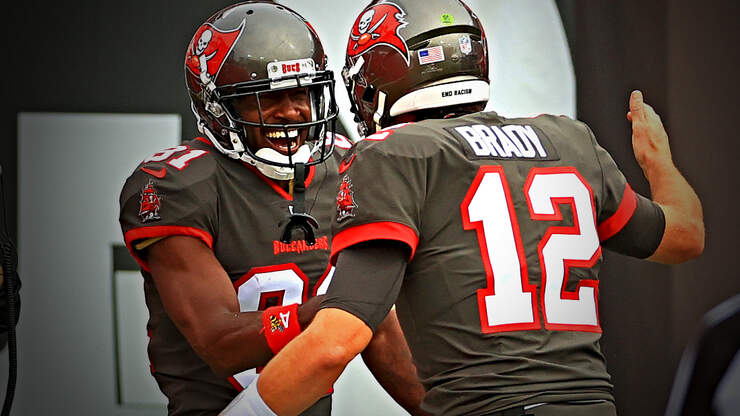 Tampa Bay Buccaneers issue official statement on Antonio Brown's release
Tampa Bay Buccaneers have released an official statement confirming the release of wide receiver Antonio Brown and denying charges brought by Brown that he was forced to play on an injured ankle last Sunday.
On Wednesday, Brown shared an MRI scan two days earlier that revealed broken bone fragments, a torn ligament from the bone and loss of cartilage as part of his first statement in response to a bizarre incident in which he left the field at MetLife Stadium during the third quarter of the Buccaneers' 28-24 victory over the New York Jets at MetLife Stadium.
"The Tampa Bay Buccaneers have terminated Antonio Brown's contract with immediate effect," the statement said. "Although Antonio received ankle treatment and was on the injury report the week before last Sunday's game, he was cleared to play by our medical team before the start of the game and at no time during the game. Did he indicate to our medical staff that he could not play. We attempted, several times during the week, to schedule an evaluation by an external orthopedic specialist, but Antonio did not comply . Maintaining the health and well-being of our players is of the utmost importance to our organization. "
On Sunday, the Buccaneers head coach said Brown was "no longer a Buc" after Sunday's game.
"He's not a Buc anymore. That's the end of the story," Arians told reporters after the match via NFL.com.
Buccaneers radio reporter TJ Rives reported that the Arians put Brown on the bench in the third quarter of Sunday's game and the wide receiver responded by removing his shoulder pads and jersey and throwing them onto the bench.
Brown was later seen running shirtless around the field and through the tunnel during the game's live broadcast as the Buccaneers' offensive campaign continued.
The Arians later said FOX Sports' Jay glazer that he tried to put Brown back in the game but the receiver refused.
The Arians then told Brown to get out, according to Glazer.
"I've never seen anything like it in all my years," Arians told Glazer.
Brown denied leaving the Buccaneers on Sunday, instead accusing the Arians of cutting him for not playing despite the injuries.
"I didn't quit. I was cut. I didn't walk away from my brothers. I was kicked out," Brown's statement said via ESPN's Adam schefter.
Brown was recently among three players suspended for violating NFL-NFLPA COVID-19 protocols.
NFL confirmed Brown and teammate Mike edwards, as well as free agent John Franklin III – if signed at a club – will all be ineligible for the next three games in a press release shared on his official communication website December 2.
NFL Network's Ian Rapoport has reported an investigation into allegations that Brown, Edwards and Franklin all distorted their immunization status under NFL-NFLPA COVID-19 protocols has been conclusive.