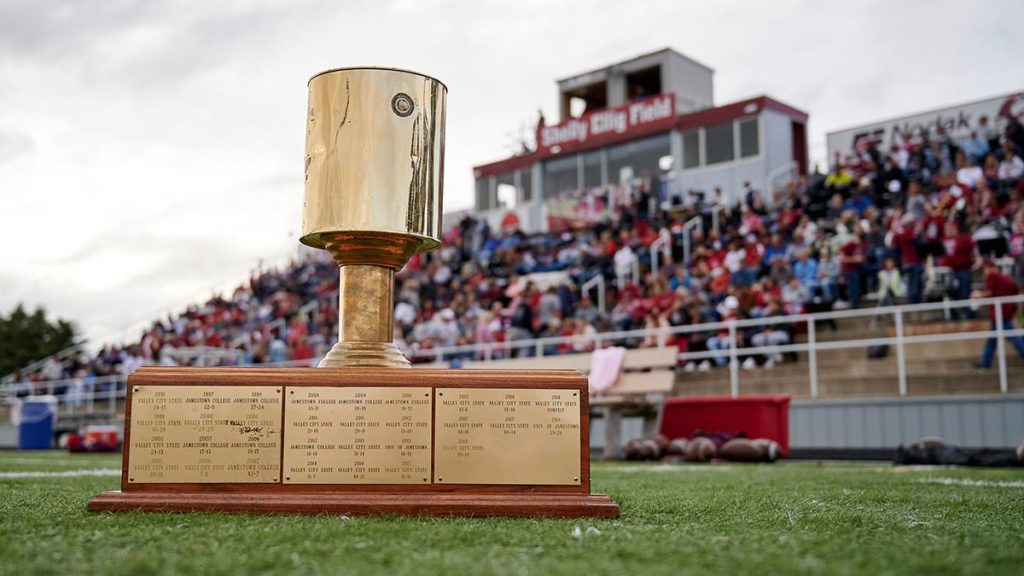 Viking Football opens the season Thursday night at Jamestown
JAMESTOWN, ND. (VCSU) – The 2022 college football season kicks off Thursday night in Jamestown.
Valley City State University hits the road Thursday, traveling 35 miles west for the season opener at rival Jamestown University. It will be the 123rd meeting in the history of the rivalry.
Thursday's game kicks off at 7 p.m. in Jamestown. It will be broadcast on national television by BEK Sports (BEK Channel Finder). Radio coverage will be on KOVC 1490-AM/96.3-FM and online at www.newsdakota.com.
LIVE LINKS: Video | Radio | Statistics
HISTORICAL RIVALRY
The Vikings lead the all-time series with Jamestown, 64-53-5, and lead the Paint Bucket series 43-31. The rivalry's recorded encounters date back to 1909. The Paint Bucket Series and Traveling Trophy were established in 1961. VCSU won last year's game 24-7 and have won 10 of the last 11 encounters.
"It's intense," VCSU head coach Denis McCulloch said about the rivalry. "There are so many elements, outside of football, that make it a bigger game: our schools are so close to each other; we are public and they are private; we recruit against each other all year round; and our community members are very proud to be from Valley City or Jamestown. It's a great atmosphere and a great opportunity for our guys to play a match like this.
It will be the eighth time since 2013 that the two teams have contested the season opener. The Vikings won the previous season opener in 2013, 2014, 2015, 2016, 2019 and 2021. Jamestown won the opener against VCSU in 2018.
LAST MEETING
Valley City State handily won last year's Paint Bucket game in Valley City, 24-7. The Vikings held a 10-0 halftime lead and eventually led 24-0 before Jamestown scored its only touchdown. The VCSU defense dominated the line of scrimmage – holding Jamestown to negative rushing yards – and Jalen Pfeifer threw touchdown passes to Jacob Gottenborg, Michael Cornelius and Justice Bice.
LAST GAME IN JAMESTOWN
Jamestown won the rivalry's last meeting at home, hanging on to a 28-26 victory on August 25, 2018. VCSU scored a touchdown with 43 seconds left, but the Jimmies stopped the conversion on 2 points. try to seal the 28-26 victory.
ALL EYES ON QB
For the first time in five seasons, Valley City State will have a new starting quarterback. Five-year-old starter Jalen Pfeifer graduated last year after setting VCSU career records in several major passing categories. Making his first career start on Thursday night is Avery Thorsgaard's second. A native of Northwood, ND, Thorsgaard is in his third year with VCSU football and played in all 10 games last year as a starter and backup quarterback. Thorsgaard completed 5 of 8 passes for 36 yards and also had seven carries for 27 yards.
Jamestown, meanwhile, fires senior quarterback Cade Torgerson, who passed for 2,973 yards and 23 touchdowns on a high-passing offense last season. Jamestown passed 68% of its plays last year, totaling 521 passing attempts and just 250 rushing attempts.
"Their quarterback and wide receivers are very talented," McCulloch said. "It's going to be a challenge for us."
Torgerson attempted 40 or more passes in nine games last season, including 72 attempts in a 31-25 loss to Dakota Wesleyan.
VIKINGS RETURN A STRONG DEFENSE
all american Riley Gerhardt and his team-high 10 sacks come back to anchor Valley City State's defensive line, which dominated last season. While Gerhardt and Vincent Dumas are back, a major loss is the graduation of defensive tackle Marshaun Jones. The 3-year-old starter has captained numerous double-teams and was a two-time All-American before graduating last season. Stepping into the starting roles on the defensive line for Thursday's game are twin brothers Georgie Mageo and Georgia Mageowho are redshirt freshmen from Anchorage, Alaska.
The Viking defense returns eight starters from last year's squad that allowed just 12.9 points per game. All three starting linebackers are back – Jahidi West, Dustin Kasowski and Sal Avila – as well as three starting defensive backs: Anthony Rousseau, Paco Baltazar and Martin Jones. West, Jones and Avila were all named All-Conference last season, while Kasowski and Russell were honorable mention All-Conference.
EXPERIENCED RACING GAME
Valley City State's rushing offense appears to be a preseason force with a pair of All-Conference running backs in the backfield. Justice Bice was named All-Conference 1st Team in 2021, and Taylor Simmons returns to the field this season after being named 2nd Team All-Conference in 2020. The offensive line features a pair of two 1st Team All-Conference players in Sammy Trejo and Troy Dietzand another pair of experienced starters in Joseph Salas and Kade Queen.
RECEPTION BODY
Senior Jacob Gottenborg should play a big role this year as the most experienced receiver in the Vikings passing offense. Gottenborg was named an all-conference honorable mention last season and has 42 career receptions for 524 yards and seven touchdowns. He will be joined in the starting formation by the second Faaris Amegankpoe and freshman in red shirt justin cruzwho are both starting their first careers.
LAST YEAR
Valley City State was 8-2 overall last season and 6-2 in the North Star Athletic Association, finishing second in conference standings. The Vikings were ranked 15th nationally. Jamestown was 2-9 overall last season and 2-8 in the Great Plains Athletic Conference.
PRE-SEASON SURVEYS
Valley City State was selected to finish second in the North Star Athletic Association's preseason poll. The Vikings also receive votes in the NAIA Top 25 poll. Jamestown was picked ninth in the GPAC preseason poll.